Let's Get Moving in 2023!
Tuesday, January 24, 2023 (12:00 PM - 1:00 PM) (EST)
Pricing
Register online by 4:00 PM on 1/23/23: Free for members; $10 for nonmembers.
No refunds.
Your unique Zoom link will be emailed to you shortly after you register. Please add it to your calendar.
NJAWBO Virtual Event Hosted by the Northwest Region
Let's Get Moving in 2023!

During this presentation by Teresa D'Angelo, founder of Live Love Move LLC, you will learn the benefits of incorporating movement into your daily/weekly routines, including:
relieving the physical effects of stress during your work day
reinvigorating your energy flow to stimulate creative thinking
sprinkling in immune-boosting fun to your daily routine
re-patterning stuck ways of moving (and thinking)
SPEAKER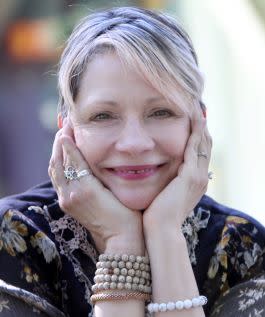 Teresa D'Angelo
Live Love Move LLC

Teresa D'Angelo, founder of Live Love Move LLC, is a dancer, teacher, and practitioner of the healing arts. Her passion is educating people of all ages to move to feel better and rekindle their vibrancy. Through private sessions, group classes, and special programs, you will learn to connect with your body and yourself to discover the YOU that desires to be seen and heard. It doesn't matter if you've ever "danced" in your life or are a professional dancer or athlete or older adult. This movement is adaptable to all ages, body types, and abilities!
Teresa is a 2nd Degree Black Belt Nia® Instructor and an Ageless Grace® Brain Fitness Trainer and Educator. She is registered in Polarity Therapy bodywork and certified in Massage Therapy, and has completed a three-year intensive program in Dance/Movement Therapy. She holds a Master of Science in Communications and has had a variety of careers in radio and television broadcasting, publishing, and project management with the world's top professional services firm. Teresa is also a collaborative author in the international Amazon best seller, Soul Biz, for entrepreneurs and solo practitioners (published in June 2021).

This event is hosted by the NJAWBO Northwest Region. which covers Morris, Warren, and Sussex Counties.
NJAWBO is all about building business relationships. It has been encouraging and supporting business ownership by women since 1978.
Women business owners and entrepreneurs from New Jersey and beyond are encouraged to attend.
Not a member yet? JOIN NOW!
Hope to see you there!
Event Contact:
Josephine Dispenzere
Contact Organization:
NJAWBO