Harness Your Energy—Build Your Resilience
Tuesday, June 7, 2022 (9:30 AM - 11:00 AM) (EDT)
Pricing
Please register by 5pm on 6/6. Free for members; $10 for nonmembers.
No refunds.

Your unique Zoom link will be emailed to you shortly after you register. Please add it to your calendar.
A NJAWBO co-branded business event with the NJSBDC...

Harness Your Energy—Build Your Resilience
Building resiliency allows us to bounce back after stressful situations, minimize the negative impact of that stress on our health, and feel more in control of our life. How do you stay healthy, de-stress, decompress, regain focus, and bounce in the face of challenge and uncertainty? Resiliency can be learned. Wisdom and research shows that small shifts can have a major impact. Learn practical approaches and solutions and integrate these 10 everyday resiliency traits and strategies into your new reality. Discover how to effectively respond to challenges, cope through change, and recharge your energy, so that you can focus on living your full and flourishing life.
MEET THE PRESENTER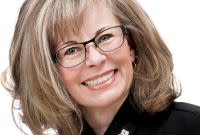 Beverly Beuermann-King, CSP
Stress Resiliency Strategist
Beverly Beuermann-King specializes in working with people and organizations who want to control their reactions to stress, build resiliency against life's challenges, and live healthy, successful loives using her S-O-S Principle™. She launched her company, R 'n B Consulting, in 1995, and since then she has helped teams from a wide range of industries to shift from stressed out to resilient, enabling them to be happier, engaged, and successful. Beverly's psychology, sociology, management, and adult education background combine to create her Work Smart Live Smart presentations, which are soundly based in research, and are enlightening and inspirational. Audiences discover the right strategies to improve their health, manage their challenges, and enhance their life's satisfaction using three simple questions.

The New Jersey Small Business Development Centers (NJSBDC) network provides comprehensive assistance to small and medium businesses (SMBs) to maximize opportunities for growth and generate economic impact statewide.
The NJSBDC was established by Congress in 1978 as one of the first national SBDC pilot projects resulting from the passage of Public Law 96-302. Today, the NJSBDC network is composed of the headquarters located at Rutgers Business School – Newark and New Brunswick, and 12 full-service regional centers, and an additional 28 affiliate (or satellite) offices located throughout the state. Regional centers are hosted by and affiliated with a two and four-year college and university business programs with a major footprint for comprehensive small business assistance and outreach.



NJAWBO is all about building business relationships. It has been encouraging and supporting business ownership by women since 1978.
Women business owners and entrepreneurs from New Jersey and beyond are encouraged to attend.
Hope to see you there!
Event Contact:
Josephine Dispenzere
Contact Organization:
NJAWBO