NJAWBO Member Game Time: Cheers to the Holiday Season
Thursday, December 1, 2022 (4:00 PM - 5:00 PM) (EST)
Pricing
Register by 3 PM on 11/30. Fee: NJAWBO Members $10.
No refunds.
NOTE: The link to join the event will be emailed to you a few days before the event.
NJAWBO MEMBERS, Let's Have Some Fun!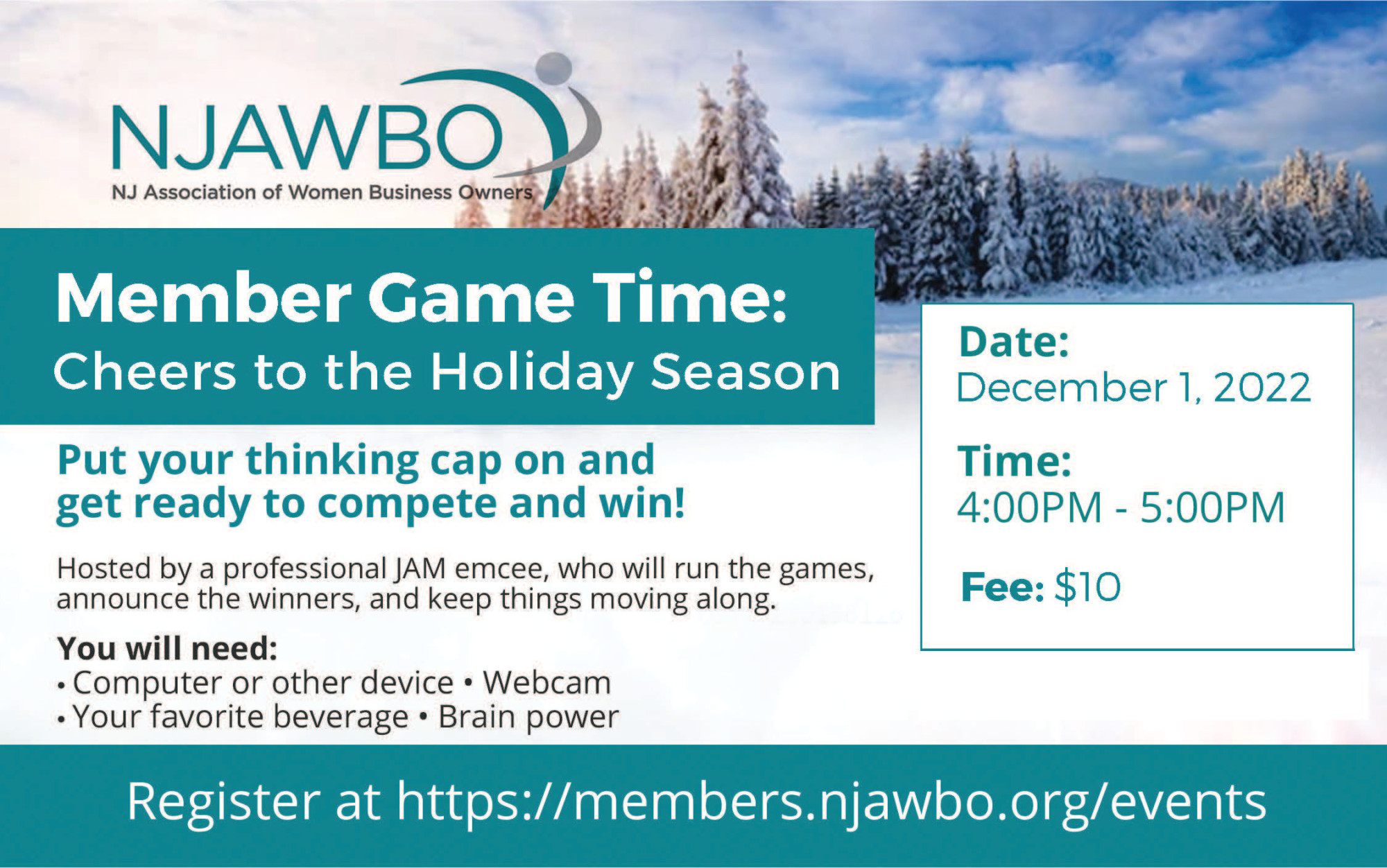 Attendees will compete as teams in a fun game called, "Survey Says." The number of teams will be based on the number of attendees (20 attendees = 4 teams of 5 players). All members of the winning team will win a prize!

This promises to be an enjoyable way to kick off the holiday season! We hope to see you there!
Please REGISTER by 3 PM on 11/30/2022.
Let's spread the cheer to those in need...
This holiday season, NJAWBO will again be supporting Oasis - A Haven for Women and Children and The Safe House, an emergency shelter for victims of domestic violence and their children, by providing gift cards to each of these organizations so they can distribute them to those they serve:
Target

gift cards for Oasis

ShopRite gift cards for The Safe House
If you'd also like to donate a gift card, please mail it (by 12/1, if possible) directly to the organization of your choice:
Jennifer Brady, Oasis - A Haven for Women and Children, 59 Mill St, Paterson, NJ 07501
Sue Scioscia, The Safe House, P.O. Box 1887, Bloomfield, NJ 07003
Happy Holidays!
Event Contact:
Josephine Dispenzere
Contact Organization:
NJAWBO
Contact Description:
NJAWBO Administrative Assistant