NJAWBO Gift Guide - Spring 2021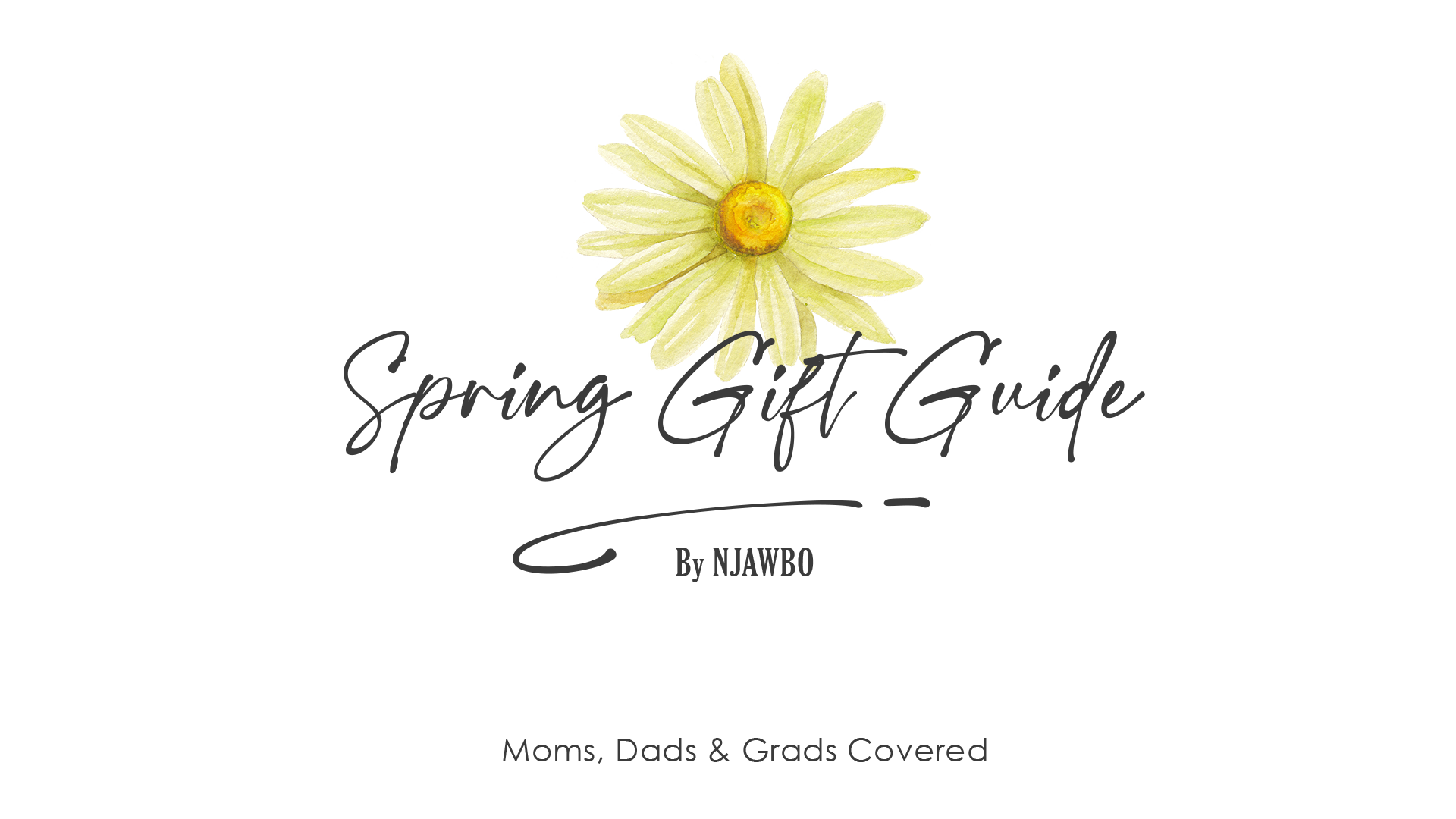 Spring is here, with all its wonderful gift-giving occasions.
From travel to pancakes, we've got you covered!
Is mom a homebody or globetrotter? No matter, we've got the right gift her. Your Dad won't get lost in the hard-to-buy-for soup either. We've got him covered here with thoughtful and unique selections. And then there's the Grad, and we've got the gift to help them on their post-graduation path. 'Tis the Spring Season. So let's celebrate the Moms, Dads, and Grads!
Are you a Mom, Dad, or Grad? Why not treat yourself, too!
All of your purchases will directly support the NJAWBO business owners who are offering the products and services listed below. Click the links and shop away!
1) MAKE MOM AND/OR DAD THE ULTIMATE MARTINI. Say "Cheers!" to moms and dads who love a good martini, and Rocabella's Coconut Mango Pineapple Vodka will help you achieve a mixologist quality drink without the fuss.
2) GIVE MOM AND/OR DAD SOLID ADVICE. Is your mom or dad constantly talking about retirement? Treat them to a consultation with Erin Hoffman of Certified Financial Services. She'll put mom and dad on the right track to achieve their retirement dream. The best part, it doesn't cost anything! $0
3) SHOW MOM HER BEAUTY. A beauty photo session with Susan Roche Portraits is the perfect way to treat mom to a beautiful day out with a photography experience. Includes one-on-one consultation, professional hair and makeup, and three hour photo shoot with Susan. $99
4) GIVE MOM STYLE. Does your mom have a closet full of clothes and still feels like she has nothing to wear? Gift her a style consultation with An Eye for Detail's Pamela Etzin. Pamela will assess your mom's wardrobe, help her define and expand her personal style. It's an experience she'll appreciate forever. $350
5) GIVE MOM SOMETHING PERSONAL. Celebrate your mother's love with jewelry made just for her. A delicate and personalized necklace from Stella & Dot representative Diane Byrne is the perfect choice. $74
6) GIVE YOUR GRAD SOME INSPIRATION. Send your grad off into the world with a special message of love on an engraved bangle from Stella & Dot representative Donna Madronal. $84
7) GIFT THEM ALL POP! The PopPack Vent Wallet! It is surely an ideal gift for anyone. The PopWallet+ by Proforma Repromatic offers a sleek and secure way to carry important cards on your phone. The hard case, unlike silicone, means that it will not split causing you to lose your cards. It's a "cant live without item" that your mom, dad, or grad will love!
8) GIFT MOM AND/OR DAD AN ESCAPE TO THE CARRIBEAN. Pamper Mom at a fantastic resort, get Dad on the golf course, or take the whole family for a sun-quenched, turquoise-water vacation to celebrate the ones you love. As a Travel Safety Verified agency, Christy Mahon of Escape Artist Holidays Dream Vacations can custom craft a package to paradise just for you. Book a qualifying vacation by 5/31/21 for travel in 2021-2022 and receive a special gift. Call for a free consultation.
9) GIFT MOM A START. Gift your mom that first step in living her best life with a coaching package from Doreen Steenland Wherever your mom is in her life, Doreen can help her authentically connect, remove obstacles, and impact her world. Discover the possibilities together. Starts at $397
10) GIFT THEM ALL SOMETHING COLORFUL. Moms, dads, and grads need to eat their colors, so consider gifting them Kickerfeast's full collection of pancake mixes to help them do that. The collection is a great addition to a house warming basket, or just make it for them during Sunday visits! Who doesn't love pancakes! $24
11) GIFT MOM HER BEST LIFE. Is your mom constantly talking about being overwhelmed or unfulfilled? You can help her live her best life with a three-month coaching session with Kim Levin Coaching. Kim will help her release her self-destructive thought patterns and discover what she wants most to truly live her life by design. Kim will help your mom tap into her vitality, embrace joy, laughter, and fulfillment. Mother's day special $1,620