Accelerate Your Success with a Business GPS
Tuesday, September 20, 2022 (12:00 PM - 1:00 PM) (EDT)
Pricing
Register online by 5:00 PM on 8/19/22: Free for members; $10 for nonmembers.
No refunds.
Your unique Zoom link will be emailed to you shortly after you register. Please add it to your calendar.
Join us to learn the...
Accelerate Your Success with a Business GPS

Calling all business owners! Wish you had a GPS to follow in your business so you never get off track? Get a firm grip on the road to profitability by defining the 8 navigation points of success in your company and keeping them in alignment.
Marketing trends and the economic landscape keep throwing twists and turns your way, making it critical to have a plan to follow. Your business GPS is a plan that grows with you; it will keep you focused and moving in the right direction. When you define your 8 Navigation Points, you can refine them through any storm.
During this presentation by business growth strategist, Susana Fonticoba, owner of Clear Path Strategy LLC, you will learn to:
Define the key segments: Aligning Choices, Delivering Value, Attracting an Audience, and Building Growth.
Take action and tighten all the loose ends for a smooth road to prosperity.
Keep their business in alignment, from end to end.
SPEAKER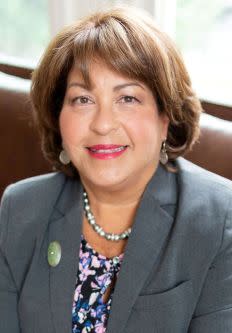 Susana Fonticoba
Clear Path Strategy LLC

Susana Fonticoba is a business growth strategist and owner of Clear Path Strategy LLC. As the Founder of the Clear Path Collaborative, she runs a dynamic and powerful business development program where entrepreneurs can grow their business under the guidance of a Peer Advisory Board and Mastermind. Small groups of about 8 members join forces to support, ideate, inspire, motivate and discover paths to success. You can try it out for free in the Entrepreneur's Collaborative Roundtable, offered once a month.

This event is hosted by the NJAWBO Northwest Region. which covers Morris, Warren, and Sussex Counties.
NJAWBO is all about building business relationships. It has been encouraging and supporting business ownership by women since 1978.
Women business owners and entrepreneurs from New Jersey and beyond are encouraged to attend.
Hope to see you there!
Event Contact:
Josephine Dispenzere
Contact Organization:
NJAWBO