NJAWBO Mastermind 2023
Tuesday, February 28, 2023 3:00 PM - Monday, July 31, 2023 4:00 PM (EST)
Hours listed above are irrelevant. The actual meeting times will be determined by each group. Each Mastermind will begin when registration closes for each group and will run for six months.
Pricing
Register by NOON on 2/28/2023. NJAWBO Members: $295 for 6-month mastermind (one session/month).
The facilitator will contact you when your mastermind group has reached the four-participant minimum. The dates for your meetings will be customized by the facilitator for your group.
No refunds.

NEW FOR NJAWBO IN 2023
(The first cohort's February session has been held. There's room for one more if you register by 2/28!)

NJAWBO Member Mastermind

NJAWBO has launched a series of six-month masterminds designed by a certified mastermind facilitator especially for NJAWBO members.
Plan for success in 2023 by joining a NJAWBO Mastermind Group, where you will...
Gain from shared experiences
Expand your perspectives
Test new ideas
Grow your business
Each six-month mastermind cohort will accommodate four to eight members. The first cohort will begin in February. Specific meeting dates will be set based on the members in each cohort.
Program Qualifications
Designed specifically for and limited to NJAWBO members in good standing. Cohort participants must be paid Active members.
Member price for the six-month program is only $295, to be paid in full at time of registration.
New members will be accepted into a cohort until it's filled, then registration for next cohort will begin.
Meeting Frequency, Time, and Dates
Regular meeting dates and times will be customized for each cohort.
The facilitator will send calendar invites and reminders, run the meeting from her Zoom account, and facilitate all meetings. There will be no recordings for privacy.
Meetings will be held once/month for 90–120 minutes (based on the number of members).
The agenda will follow a standard mastermind format, with challenges submitted in advance and time for at least 3 hot seats per meeting.
CERTIFIED MASTERMIND FACILITATOR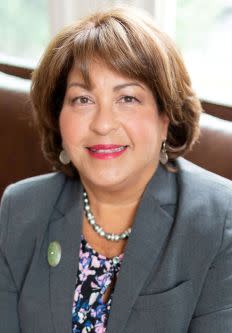 Susana Fonticoba
Clear Path Strategy LLC

Susana Fonticoba owns Clear Path Strategy LLC, providing business strategy and content writing. She achieved her certification as a Mastermind Facilitator in 2021, having benefited from the power of this business development format. She is delighted to align with business owners who want to realize their mission.
Please REGISTER for the first Mastermind cohort by NOON on 2/28/2023.
Not a member yet? JOIN NOW!
Event Contact:
Josephine Dispenzere
Contact Organization:
NJAWBO
Contact Description:
NJAWBO Administrative Assistant