NJAWBO Trivia Night
Wednesday, June 30, 2021 (4:00 PM - 5:00 PM) (EDT)
Pricing
Register by NOON on 6/29. NJAWBO Members $25; nonmembers $35.
No refunds.
NOTE: The link to join the event will be emailed to you about a week before the event.
Join us for some fun!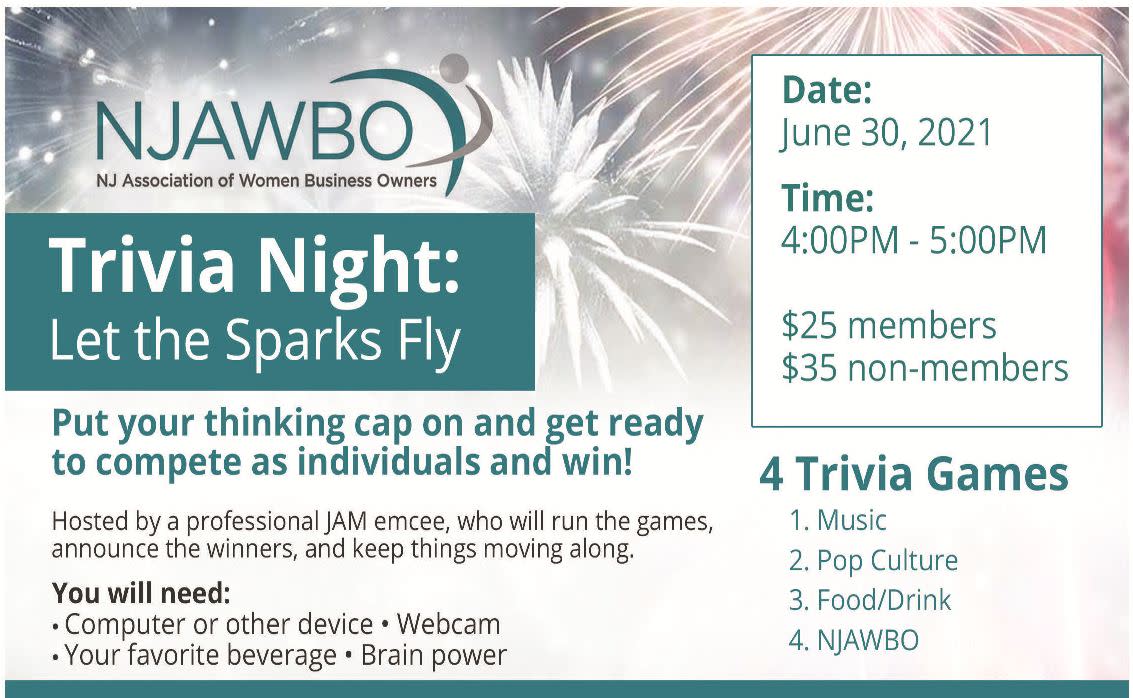 The first three games will have 12 multiple-choice questions each, and the NJAWBO game will have 6 questions. You'll have 15 seconds to answer each question.
This fun-filled virtual event will be hosted by a professional JAM emcee, who will run the games, announce the winners, and keep things moving along.
The Jam emcee will send participants a link to the trivia game, announce the winners after each game, and allow for a 2-minute bio-break between games.
You will need:
computer or other device (tablet or phone)
webcam
your favorite beverage
brain power
(You may need two devices OR a computer with two monitors OR two open windows on a single computer monitor.)
Prizes!
The winner of each of the first three games will receive $25 off their NJAWBO membership renewal!*
The winner of the NJAWBO game will receive $50 off their next membership renewal!*
And, person with the most correct answers for the evening will receive $75 off their next membership renewal!* That winner will be announced in a follow-up email to all registrants the day after the event.
*Winners who are not yet members will have their prize applied to their membership application fee if they join NJAWBO by August 1.
Please REGISTER for this event by NOON on 6/29/2021.
Event Contact:
Josephine Dispenzere
Contact Organization:
NJAWBO
Contact Description:
NJAWBO Administrative Assistant