Simple Investing Concepts You Can Live With
Tuesday, April 11, 2023 (12:00 PM - 1:00 PM) (EDT)
Pricing
Register online by 4:00 PM on 4/10/23: Free for members; $10 for nonmembers.
No refunds.
Your unique Zoom link will be emailed to you shortly after you register. Please add it to your calendar.
NJAWBO Virtual Event Hosted by the Northwest Region
Simple Investing Concepts You Can Live With

Implementing these savings routines, such as the following, are better than nothing:
How to diversify savings
It's never too late to start somewhere
How to build wealth
SPEAKER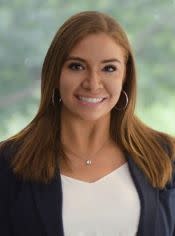 Erin Hoffman
Certified Financial Services

Erin Hoffman is a financial advisor with Certified Financial Services. She helps her clients achieve and maintain their personal and business financial goals. Established in 1986, Certified Financial Services, LLC (CFS), a wealth management firm and member of The Guardian Network®, was built on the ideals of Family, Protection, and Community. CFS provides clients with innovative financial solutions to help them reach their financial goals and independence. The firm's long-term relationships with clients helps to strategize and provide quality services and resources, such as investments, life and disability insurance, retirement services, long term care insurance, and annuities.

Registered Representative and Financial Advisor of Park Avenue Securities LLC (PAS). OSJ: 52 FOREST AVE, PARAMUS NJ, 07652, 201-8437700. Securities products and advisory services offered through PAS, member FINRA, SIPC. Financial Representative of The Guardian Life Insurance Company of America® (Guardian), New York, NY. PAS is a wholly owned subsidiary of Guardian. Certified Financial Services LLC is not an affiliate or subsidiary of PAS or Guardian. CA Insurance License Number - 4029326. Northwest Region is not an affiliate or subsidiary of PAS or Guardian. 2023-153175 (Exp. 4/12/23).
This event is hosted by the NJAWBO Northwest Region. which covers Morris, Warren, and Sussex Counties.
NJAWBO is all about building business relationships. It has been encouraging and supporting business ownership by women since 1978.
Women business owners and entrepreneurs from New Jersey and beyond are encouraged to attend.
Not a member yet? JOIN NOW!
Hope to see you there!
Event Contact:
Josephine Dispenzere
Contact Organization:
NJAWBO